Bomb! Burning Fantasy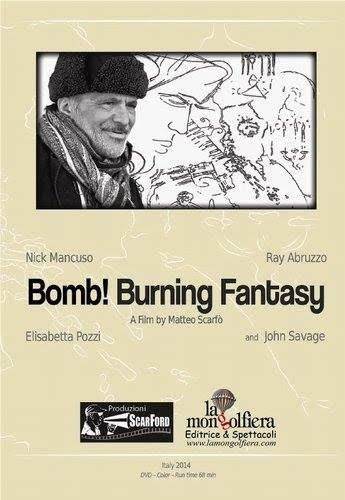 Original title: Bomb! Burning Fantasy
Other titles: Bomb! Fantasia in fiamme
Directed by: Matteo Scarfò
Screenplay: Giovanni Scarfò, Matteo Scarfò, Nick Mancuso
With: Nick Mancuso, Elisabetta Pozzi, Ray Abruzzo, John Savage, Lucia Cristofaro, Lavinia Mochi, Clement Von Franckenstein, Madla Hruza, Olivia Maria Lopez, David Mirsky.
Original soundtrack: Francesco Leone, Arco Parentela, Aldo Ferrara, and with the music of Daniele D'Angelo, Nimby and Loreno Sutton
3D / Vfx & Compositing artist: Roberto Stranges
Camera: Nick Zavaglia
Nationality: Italy
Year: 2015
Duration: 68 min
Genre: artistic / experimental docufilm
Production: ScarFord Produzioni sas
Synopsis: Who was Corso? Gregory Corso was born in 1930 in Greenwich Village in New York. His parents were of italian origin, his mother was from Abruzzo, his father from Calabria. He spent his childhood on the street and in prison. In prison, he began to write poetry. Once out of the prison, he met Allen Ginsberg, who introduced him to the world of the Beat generation. So he started an harsh journey travelling around the world. He was one of the most important American poets of the late twentieth century, Jack Kerouac called him '"the herald of the Beat generation". He is the one who has carried on his shoulders the Beat spirit. He was Beat and has personified that spirit until the last moment of his life. He had a very difficult life, Corso was born as a Beat,and like a Beat he died, he never ceased to be a Beat, Corso was the poetry he wrote. Probably he was not interested in labels. What does Beat mean? He said "Beat means giving a kick to all the debris with experience". That was just his life. The life of a poet. This film is about Corso's Poetry primarily, it's not a documentary about his life, we want to show especially what his poetry is, and how poetry was related to his life and how it addressed his choices. This movie is not a biopic movie, it hasn't a classical story-telling. This film follows the suggestions, the feelings and the emotions that Poetry produces. It is partly realized in "live action" and partly in green screen, developed by the 3D artist Roberto Stranges. We want to reproduce Gregory's estrangement from the world and the reality. Gregory Corso would not compromise his art, would not sell himself out and would not allow his work to be turned into rank merchandise. It wasn't a part of his being, of who he was, because there was an essential purity inside of him. In spite of his drinking and drugging, his strong language, his constant womanizing, there was a purity,an angel inside of Gregory, because each experience in the life of a poet, can't be repeated, merchandised, stamped and this inimitable quality could never be repeated or copied it remained forever in the present. Poetry authentic poetry,is wild, without brakes, when you truly enter it's orbit, you enter the void, you discover... nothingness. Gregory was a visionary poet, like Blake, lost and luminescent, a kind of cursed angel, but in that aberration he was able to give us streaks and traces, like a meteor cutting across the night skies, of an authentic truth. The poet, not having the normal protective barriers of average people, is like an open wound, and is hurt on a continuous basis, often he hurts himself, but because of this he is totally real, totally authentic Doing a docufilm on Gregory Corso means, on the one hand, talking about a "prophetic" character; on the other, a man who lived his inner and material troubles always with great intellectual honesty. The docufilm does not follow a chronological narrative, but the emotional suggestions of Corso's relationship with poetry.