The last sun of the night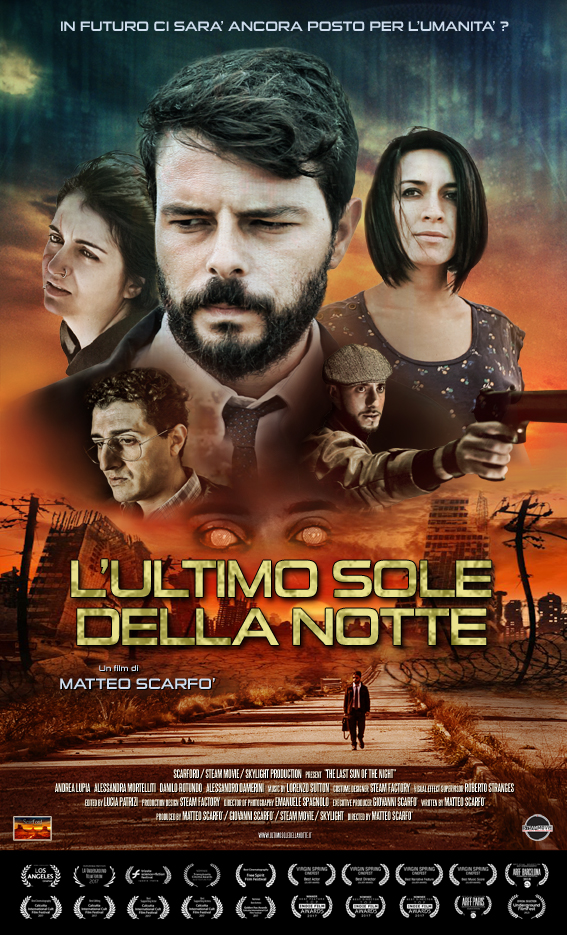 Original title: L'ultimo sole della notte
English title: The last sun of the night
Directed by: Matteo Scarfò
Screenplay: Matteo Scarfò
Production: Matteo Scarfò and Giovanni Scarfò for ScarFord Produzioni
Cinematography: Emanuele Spagnolo
Second unit cinematography: Vittorio Sala
Editor: Lucia Patrizi
Music: Lorenzo Sutton
With: Andrea Lupia (Andrea Carli), Alessandra Mortelliti (Alessandra), Danilo Rotundo (Becatti), Alessandro Damerini (Stefano)
and with Claudia Fratarcangeli, Annalisa Insardà, Lucia Cristofaro, Giovanni Andriuoli, Vanessa Curto. Mario Marascio, Marta Parise, Vincenzo Tallura, Annalisa Lamanna, Gianpaolo Negro, Pino Torcasio.
Nationality: Italy 2016
Duration: 106 minutes
First assistant camera: Beatrice Canino
Special Effects Artist: Roberto Stranges
Makeup and special makeup effects: Maria Rotundo
Sound: Mario Amelio
Chief electrician: Tommaso Floro Candido
Synopsis: After a devastating war that involved Italy and Europe, the Italian government has decided to create some safe areas where thousand of people previously selected to social class, gender, religion, wealth conditions, family, age, have to be deported to in order to safeguard the values of Western society. The film begins when the project is now failed. In one of these zones, the Zone 13, there are only three people who live in a huge apartment building, where nothing is missing but everything is in decay. The building looks like a large magnetic monolith, a kind of primordial god who does not let them go away, they feel it as a safe womb. The narrative goes on two levels: the present, set in the Zone, and the life of the past in the previous world, these two sides slide on the same narrative line, the two are dependent from each other. What's out over the Zone's fences? Someone will try to find it out.
Director's note: The last sun of the night is a dystopian film, it is set in a not distant future, it could also be our present. The film is set after a new world war, in one of the safe areas created to deport people intended to be "representative" of the values of Western Society. The characters have a dark relationship with their past and the film unfolds through two different timelines, past and present, which for us is the future. Both of them are like a single wire of the same story. I tried to tell what can happen to people in extraordinary situations when they are deprived of the opportunity to love their loved ones: family, friends, neighbors… anyone. We need our daily treadmill, to know that we are not alone in the lifetime. And we need to communicate. When all this disappears, when the foundations of our society disappear, what happens to us? There will still be room for humanity as we know it? I also tried to figure out our future through technology and our relationship with social networks. It is the first post-apocalyptic film that depicts this kind of relationship. I also tried to imagine a subversion of the rules of the classic post-apocalyptic movie in which the protagonists usually tries to survive in some external bad place, searching for food, cloths, weapons. In my film all this is not a problem, the characters have all they need to survive, but often little things are missing, that is what we consider obvious, little things to cling to, even just a piece of paper or a pen. They are alone, they feel lost, and they are afraid of the unknown. The continuously wonder is anybody out there? The Zone is all that remains to them. It's the new Home. I felt myself inspired by the surrealism of Luis Buñuel and by Tarkovskij's Stalker, above all I was inspired by James Ballard and his way of exploring complex human nuances. I tried to give human nuances to my characters, there is no good or bad, there are only human beings with all their ambiguities and their complex finiteness. In them I put the mystery, that is essential in the storytelling, what do they seek? What do they want? Why do they do that? The answers to these questions must always leave a fund of unspoken, of mystery. Once given the characters their vital parts, and the real, they can walk alone and respond by themselves to their actions. I can't control them anymore, what will they do now? I can't answer.